So my dreams for a Spaniard were unsurprisingly left unfulfilled.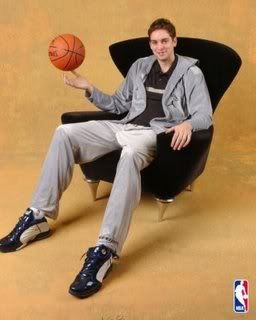 Consider me glad I did not get wrapped up in all the trade talk. I could have predicted the whole thing would have been one giant cocktease.
For the record though, I would have GLADLY done Vince for Darko and JJ. I know I'm among the minority on this one, but I LIKE Redick. He plays hard and would be a nice 3-point shooting piece of the puzzle on this Nets team. With a pg like Kidd (not to mention Marcus) and guys like Nenad and RJ who command opponents' attention on defense, JJ could and would get the wide-open shots he loves to drain so much. Even if he does
roll like R. Kelz
.
Anyway, as of today, Vince is saying he
wants to stay
w/ the Nets long-term, and obviously JKidd, cracked rib and all, has maintained his
diplomatic stance
of being very happy to stay a Net as well. However, I would not be surprised to see them both moved during the off-season. Obviously Carter can just walk, but he seems to at least be in the frame of mind that would open the door for a sign-and-trade, which would be the best situation. In any event, as maddeningly mediocre the Nets have been of late, they
kicked ass
in convincing fashion last night and are still very much in the playoff hunt. Now the question would be are they better off going in as a low seed and trying to compete against the top teams, or are they better off tanking and hoping for a high draft pick in an abnormally stacked (due to the new minimum age) draft. My friends seem to like the latter. Me, the eternal optimist (ha)...I'm for the former! The Nets can compete with any of the teams in the East on a good night...to me, it just seems they don't have enough consistent "good" nights. But RJ will be back, and the young guys on the bench have gotten better, and the East seems kind of wide open...other than the Pistons and maybe the Bulls, there don't seem to be any "sure things." Washington, Toronto, Cleveland, Orlando, the Knicks...all big question marks. And Miami sans D-Wade? Not so scary. And maybe Mile will gain some mad skillz
in the D-League
and come back and contribute and...OK, I am getting carried away. But they could make a run. Let's leave it at that.
And so what if ESPN doesn't want to air the Nets anymore? Nobody likes you anyway, ESPN. So there. Except my one girl friend who in a game of "Would You or Wouldn't You?" said she "WOULD," "DEFINITELY would" w/ Stu Scott. Ew. Althought in all fairness it was a long game and I think she said "wouldn't" like once. Harlot.
I've been disappointed with the movies I've caught in the theaters recently.
Reno 911
however, did NOT disappoint. Two thumbs up. They threw every single cast member of my very most favoritest show
"The State"
in there. AND it reminded me how much I love Nick Swardson.
Speaking of which, jury is still out on whether or not this is funny, but I know I enjoyed it immensely anyway....
As pointed out to me by my butter- and blog-hating friend: