Today, I am refocused and rededicated. Also, feeling a lot more sane, thanks for asking.
I may attribute it to my muse: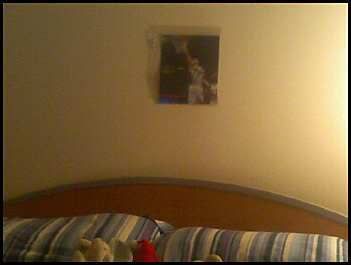 Yes, that IS an autographed photo of Boki Nachbar hung up right over my bed, how did you know??
If he doesn't inspire me, I don't know who will.
And since studying is the only thing happening on my bed these days, I feel it bodes well.
If anyone wants to be real proud, I think I am about to finish 1 complete day without bursting into tears. Hooray!
(And yes, I purposely used lyrics from a Muse song for the title, since I called Boki my muse...I'm a dork. You knew this.)
Submitted for your approval, and apropos of absolutely fucking nothing at all, are chipmunks shoving peanuts down their throats, set to a ska version of the James Bond theme song. Because why the fuck not?